Lucky (15) | Close-Up Film Review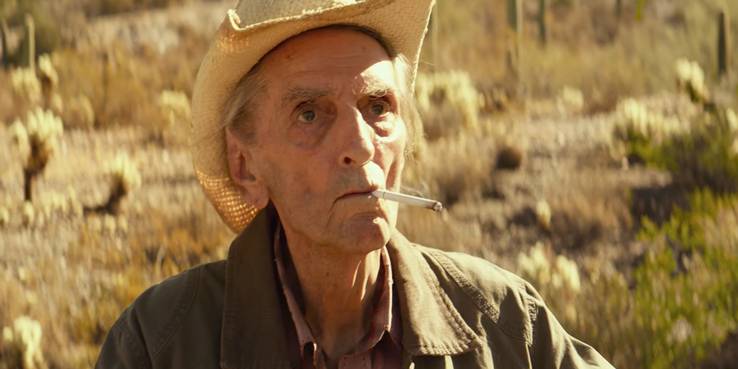 Lucky is a real veterans' film in terms of its cast and its subject.  Actor John Carroll Lynch, a comparative youngster at 54, makes his feature film directing debut in this tale of 90 year old Lucky, played by the late Harry Dean Stanton in his last screen role before his death last year with an impressive team of largely older actors in the supporting roles.
Lucky has lived most of his life in back of beyond Arizona.  He lives alone in a shack some way out of the nearest small town, into which he walks every day through the desert after doing his yoga exercises in his underwear and making his first cup of coffee (all there is in his fridge is milk).  His routine is unvaried.  Then it's the local diner for more coffee, where he chats to the head cook (Barry Shabaka Henley) and the waitress, Loretta (Yvonne Huff), then on to the bar where he'll have a bloody Mary and argue with the owner Elaine (Beth Grant) and the regular patrons about philosophy, morality, religion and the television game shows that he watches, when he returns home.
Then one day Lucky faints for no apparent reason.  His doctor (Ed Begley Jr.) reassures him there is nothing wrong with him.  His blood pressure and heart are fine, despite, frustratingly for the doctor, his heavy smoking habit.  He is just old and inevitably one day he is going to die.  No-one, as the saying goes, gets out of here alive.
Nothing much changes in Lucky's daily routine after this, except that he begins to think about death.  Will life, even death itself, notice his departure?   His thoughts though are not so much spoken as read by us in Stanton's expressively lined face, which speaks of a lifetime.  He does little except just be but the face says everything.
There are also some fine supporting performances, including film director David Lynch, who has directed Stanton many times in the past (as in Paris Texas and Twin Peaks).  He plays Lucky's eccentric friend Howard, who has hired a smart young lawyer to make his will, leaving everything to his pet tortoise President Roosevelt, who has gone walkabout in the desert and may never come home.  There is also a contribution from Tom Skerritt as a fellow veteran from Lucky's days in the Marines, who moseys into town and shares wartime reminisces with him over coffee in the diner.
This is not solely a film about facing the inevitability of death however but a life affirming piece about both solitude and friendship.  As well as his old mates, Lucky finds himself quite surprisingly making new connections with younger people – Loretta the waitress, who shares her dope with him, when she drops into his shack to check on him; Howard's young lawyer (Ron Livingston), who reveals an unexpected vulnerability and the Hispanic woman (Bertila Damas), who runs the grocery store and who invites him to her child's birthday party, where he touchingly bursts into song.
Nothing much in the way of dramatic incident happens in the story but its individual, sometimes wryly amusing incidents add up to an engrossing whole through the way its characters create a multi textured community and hold your attention, particularly Stanton in a final lead role, which is a fitting tribute to a long career and a life well lived.